GTA Online patch notes: Complete Contact Missions and revisit The Doomsday Heist for doubled rewards
GTA Online Weekly Update: Play Contract Missions For Big Bucks
It's all about the Doomsday in GTA Online this week, but don't panic – that just means you can expect tons of doubled GTA$ and RP rewards. This week's update revolves around Contact Missions and The Doomsday Heist finale first introduced in the Doomsday Heist update from way back in 2017. Now through April 24, you'll get twice the GTA$ and RP on all Contact Missions from Gerald, Lamar, Ron, Trevor, Lester, Martin or Simeon, as well as the jetpack-flying conclusion to The Doomsday Scenario.
If you're not interested in repeating missions you've already done, no worries – doubled GTA$ and RP is also being offered in three Adversary Modes that call back to previous updates. You can jump into the zone-control skirmish of Occupy, protect your VIP teammate in Hardest Target, or rev up a minigun in Juggernaut to score bonus rewards.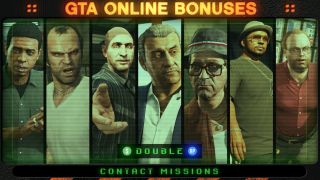 As always, Rockstar is giving you even more reason to log in this week with some free stuff – namely, the Skulls Livery for the Mammoth Avenger and TM-02 Khanjali. Nothing's more intimidating than a seeing a giant plane or tank covered in human skulls barreling towards you. It's also a great time to stock up on Facilities, vehicles, and items, as the following all have a 40% discount this week:
Facilities
Facility Add-Ons and Renovations
Pegassi Oppressor
TM-02 Khanjali
HVY Chernobog
Mammoth Avenger & Renovations
HVY Menacer
Mammoth Thruster
You should also go grab a Biker Clubhouse ASAP if you don't already have one, as Rockstar is giving owners a GTA$250k gift from April 25 – May 1. For those in need, you can get Great Chaparral Clubhouse for its lowest price ever at GTA$50k (75% off). Additionally, the Grand Senora Desert Counterfeit Cash Factory is only GTA$100k (89% off) through April 24.
There are more Premium Race circuits to enjoy this week; the buy-in for these 8-player races is a hefty $20,000, but you can snag $100,000 for taking first place (with 2nd and 3rd place finishers getting $30k and $20k respectively). Head over to Legion Square on the following dates to take part in their respective races:
April 18: Criminal Records (locked to Super)
April 19 – 22: Route 68 (locked to Muscle)
April 23 – 24: Wiwang Park (locked to Sports)
GTA Online never truly slows down when it comes to weekly updates. This week's release includes bonus cash for contract missions, as well as some major discounts on real estate.

There are a few ways to earn extra money this week in GTA Online. The easiest is completing Contract Missions. Call up your old buddies Lamar, Ron, Trevor, Lester and the rest to get missions and earn double the GTA$ and RP. Players can earn even more by completing these missions with a group of players, so make sure you bring your friends with you.

If you don't want to play contract missions, you can still earn double the rewards for joining in games of Hardest Target, Juggernaut and Occupy. Hardest Target pits two teams against each other, and both teams must kill the opposing team's marked player. The twist: the marked player is changed every minute, so you're never quite sure which player to chase after. Juggernaut is another team-based game, with one player from each team given a suit of armor and a mini gun. The first team to kill the heavily armored player on the enemy team wins. Lastly, Occupy sees two teams fighting over control of different points on the map. The team that occupies the points the longest is the winner.

If you are looking to save some cash, this week adds what is likely the biggest single discount GTA Online has ever seen. The Grand Senora Desert Counterfeit Cash Factory is only GTA$100K through April 24th. That's 89 percent off the original price! Other deals this week include:

Great Chaparral Clubhouse – 75 percent off (only GTA$50,000!)
Facilities – 40 percent off
Facilities Add-Ons and Renovations – 40 percent off
Pegassi Oppressor – 40 percent off
TM-02 Khanjali – 40 percent off
HVY Chernobog – 40 percent off
Mammoth Avenger and Renovations – 40 percent off
HVY Menacer – 40 percent off
Mammoth Thruster – 40 percent off
You'll definitely want to buy the Clubhouse this week, as Rockstar is rewarding every player who owns a Biker Clubhouse between April 25 and May 1 with an extra GTA$250,000. The clubhouse basically pays for itself, and then some!